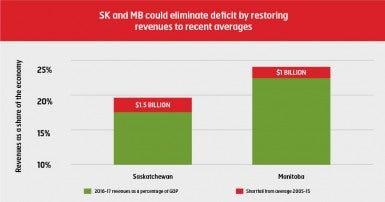 The deficit made me do it. It's becoming a distressingly predictable excuse. A new (or old) government suddenly finds a larger-than-anticipated deficit, claims it's facing a fiscal crisis and uses this as cover to freeze or slash wages, demand concessions and two-tier contracts, lay off workers, cut public services and privatize.
We've seen this show many times across the country, with devastating consequences. Wage freezes, layoffs and public spending cuts don't just hurt workers and people who rely on public services – they also slow down economic and income growth, which squeezes government revenues. Economic models show cuts to public spending are worse for the economy and jobs than tax increases.
In almost all cases where governments claim they're in a fiscal crisis, they don't have a spending problem, they have a revenue shortfall. Over time, these governments could balance their budgets by allowing the economy to grow, and reversing tax cuts so revenues return to the same share of the economy they'd been before the cuts. Raising revenues can be done with a few fair tax measures, including closing tax loopholes and increasing taxes on corporations and top income earners.
For example:
In Saskatchewan, Premier Brad Wall is threatening deep cuts and wage rollbacks to deal with the province's estimated $1 billion deficit. However, if he just restored Saskatchewan's revenues to the same share of the economy they'd averaged over the past decade, the province would have an extra $1.5 billion: more than enough to eliminate the deficit.
Manitoba's new Conservative Premier, Brian Pallister, claims the province's spending is unsustainable in light of a $1 billion deficit this year. He's already enacted deep cuts, laying off hundreds of public sector workers, and is threatening to open collective agreements and roll back wages. But if he just increased Manitoba's revenues to the same 24.1 per cent share of the economy they'd averaged over the past ten years, the province would have an extra $1 billion in revenues: enough to balance the budget.