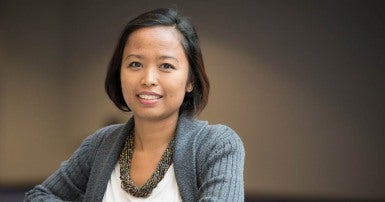 Eni Lestari could never have imagined where her life would take her when she was forced to leave her home in Indonesia in 1999.
Like millions of other young women around the world, Lestari left her country to support her family. She arrived in Hong Kong through a domestic workers agency that lied to her about her basic rights and placed her with a family that paid her well below their legal obligation, refused to give her a day off and provided her only a blanket on the floor to sleep.
After eight months in isolation she found the courage to run away and discovered she wasn't alone. At a shelter for domestic workers she met a virtual united nations of women who shared her experience. Many of those women were likely deported back to their home countries, but Lestari was lucky to find the support she needed to get her passport back and stop her agency from sentencing her to the same fate.
This experience led her to a life of social activism, trying to bring domestic and migrant workers out of the shadows and onto the international political agenda. Now chair of the International Migrant Alliance (IMA), she speaks at conferences around the world and has testified at the United Nations.
"We are living in a time of increasing forced migration as a result of economic conditions, war and now climate change. This displacement of millions of vulnerable people is causing chaos around the world," says Lestari. "We need policies at the regional, national and international level to protect migrants and build sustainable societies. We need complete structural change."
Despite all her work around the world, Lestari still works as a domestic in Hong Kong. Under Hong Kong law, this is the only way she can stay in the country. While lucky to have an employer who allows her time for her work with IMA, she remains at her employer's mercy for permission to leave the country.
Lestari's eloquence and intelligence are undeniable. She hopes to attend university in Hong Kong as a way of improving her personal circumstances. Through her international work, she is looking for financial sponsorship to make that dream a reality.