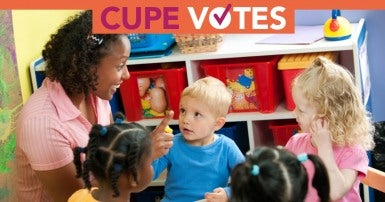 We need to build a publicly managed, universal child care system in Canada that supports high-quality early learning and child care (ELCC) for children. This includes expanding child care, making it affordable for parents, and ensuring fair wages and working conditions for child care workers.
Why it matters
Currently, we have a patchwork of programs which means parents cannot reliably find licensed care. Roughly 776,000 children, or 44% of all non-school-aged children live in "child care deserts."
Even when child care is available, it is unaffordable. A recent CCPA study indicated that fees have outpaced inflation in most Canadian cities since 2017. Because parent fees are the main source of revenue for most child care centres outside of Quebec, child care workers' wages remain low.
Child care spending for quality, affordable service would not only grow the economy, it would support women's economic participation. Studies have shown that government-provided child care positively addresses the gender wage gap. More women would be able to participate in the workforce and contribute more to their pensions.
How current policy is falling short
There is pressure for marketization of care and profit-making off children. The for-profit, "big box" child care industry has long been lobbying governments for public subsidizing of their business. Recently in Ontario, the for-profit maximum threshold was removed by the Doug Ford government, meaning more public funds will go directly to these large for-profit child care corporations. Without federal leadership and strategy, there is too much potential for marketization and instability in child care across provinces and territories.
Canada's child care spending is currently too low. The 2019 federal budget has disappointingly left child care out.
What should be done
Child care advocates and CUPE are calling for a stable, universal child care plan for all, and Canada can build it by 2030 with proper federal leadership:
Boost public spending by increasing Canada's ELCC budget by $1 billion each year over 10 years to meet international benchmarks and reach the goal of affordable, high-quality, inclusive child care for all across Canada.
Negotiate ELCC agreements with the provinces and territories that tie federal transfers to meeting evidence-based policy criteria:

Direct public funding to expand public and not-for-profit child care, not vouchers, tax credits or fee subsidies.
Provide funding and set fee guidelines to make child care affordable for parents.
Improve quality of care and stability in the workforce through public spending on set wages and fair working conditions.
Continue to work with Indigenous leadership and communities to operationalize, implement and expand on the Indigenous Early Learning and Child Care Framework to realize the goals and aspirations of the Indigenous Peoples.