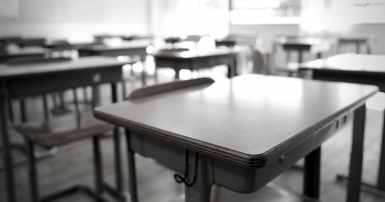 With the Toronto District School Board (TDSB) set to implement the largest cuts since the Harris era to its budget, education workers are urging trustees to follow the example of their predecessors and to refuse to pass a budget that make students, parents, and communities pay the price for the Ford government's cuts to education.
In the absence of a complete budget document, Toronto education workers, who are represented by CUPE 4400, have spent weeks piecing together reports from various TDSB committees to assess both the scope of the proposed cuts and their likely effects on students and workers.
They calculate the actual value of the TDSB cuts at over $100 million year over year.
"The cuts proposed by TDSB for its 2019-20 operating budget are even bigger than the cuts the board faced in 2002," said John Weatherup, president of CUPE 4400. "Yet back then, when trustees were confronted with making these types of cuts, they stuck to their principles and point-blank refused to pass the budget."
"We are appealing to our trustees show the same courage and leadership now. We want them to demand a needs-based budget that serves students, rather than a budget that doles out the Ford government's cuts."
Weatherup noted that 2002's trustees were ultimately vindicated in their stand when the full cuts could not be implemented at TDSB, even after the board's finances underwent a forensic audit and the provincial government appointed a supervisor to oversee the board.
If trustees bow to the proposed cuts at tomorrow's TDSB meeting, special education programs and direct classroom supports for children with special needs will be among the hardest hit services, after hundreds of education workers' positions are eliminated. Also falling victim to the cuts are the jobs of international language instructors, lunchroom supervisors, caretakers, outdoor education instructors, library workers, music and arts instructors, and staff in the board's central administration offices.
"The final tally for layoffs of education workers is still unknown, but the damage to schools and programs is well documented and the downloading of fees to parents unprecedented. The fear of a supervisor or the threat of elimination of boards should not be an excuse for making some of the worst cuts I've seen in my over-thirty years at the school board," said Weatherup.
He noted that TDSB trustees would have wide public support for voting down the cuts, since several recent opinion polls show Ontarians by a majority of up to 75 percent believe the Ford government to be "on the wrong track."