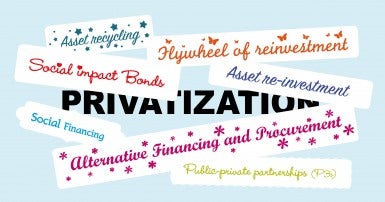 Social Impact Bonds (SIBs) are a newer form of privatization allowing private investors to profit from social services under the guise of "impact investing." Investment firms provide up-front money for social programs. If particular outcomes are met, the government pays back the investor — with a profit. They're like public-private partnerships (P3s) for social programs.
This model outsources the financing, planning and evaluation of social programs to consultants and corporations. Multiple consultants, earning hefty payments, negotiate the SIB contract, manage the project and evaluate the outcomes.
SIBs, also known as Pay for Success Bonds or Social Benefit Bonds, have been used in programs for homeless people and to rehabilitate convicted people, as well as for early childhood education and care.
Originally from the United Kingdom, SIBs now exist in the United States, Australia and Canada. SIBs are in place in Saskatchewan and federally, and Ontario is considering two projects. The federal Public Health Agency of Canada has just launched a SIB aimed at reducing high blood pressure among seniors that will be delivered through the Heart and Stroke Foundation. It will pay investors, including the Royal Bank of Canada, up to an 8.8 per cent annual return.
SIBs create many problems for workers, clients and the public. They allow investors and consultants to profit from publicly-funded social programs. The profit motive distorts programs and puts pressure on workers to achieve narrow outcomes that lose sight of quality. The most hard-to-serve people may be excluded from services in order to reach targets that trigger investor payouts. And, as with P3s, its unlikely SIBs will transfer much risk to the private sector.
Ultimately, publicly-financed social programs can best evaluate innovative pilot projects that improve services for everyone. They are the most efficient and democratic way to deliver social services.
- Sarah Ryan