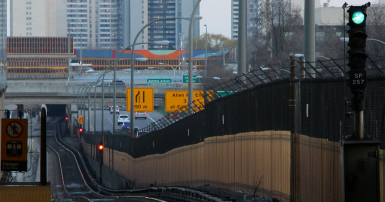 The Ontario government's Getting Ontario Moving Act, which gives the province ownership over future transit expansion in Toronto, is an irresponsible move that won't deliver the transit system that Toronto needs, according to the president of CUPE 2, which represents over 650 signals, electrical and communications workers with the Toronto Transit Commission (TTC).
The move leaves the TTC in charge of running the day-to-day operations of subways, buses and street cars. The government has recently unveiled a $29 billion plan for transit expansion in the city, claiming that this legislation will allow transit to be built quicker.
"I'm not even sure you can call it a plan, it's a recipe for disaster," said Gaetano Franco, president of CUPE Local 2. "This is about privatization. A transit system where different parts are run by different parties in different ways will cause chaos. Just look at how the province botched the implementation of the Presto Card system or the challenges with the Eglinton Line – problems caused by privatization. Now imagine how the system is going to run with multiple companies and multiple levels of government involved. It doesn't make any sense and it will not lead to the improved transit service that the GTA needs."
CUPE shares their concerns over the future of Toronto transit with city councilors who have spoken out against the Premier's plan. "Torontonians have lived with a system that has not kept up with the growth of their city. We need appropriate and accountable investment in transit, which can only happen when the TTC and city have control," Franco added. "Instead, the Premier is taking control of the city's valuable transit and we're not even sure who he is giving it to, which is a big problem."
The announcement is the latest in a series of moves the Premier has made to shape Toronto city politics, and to further a province-wide agenda to sell off public services.
"Someone needs to remind Doug Ford that he is not the mayor of Toronto," said Fred Hahn, president of CUPE Ontario. "The people of that city have not been consulted on this drastic move, which will cause huge delays to much needed public transit improvement projects already approved. This is flat out privatization of an important public service. It's about helping real estate developers increase their profits while commuters suffer. How can anyone believe this will go well for the people of Toronto when, across the province, we see the Ford Conservatives cut services. Why would anyone believe we'd see improvements at a time when, across the province, nurses, education workers, and child welfare workers are being laid off and libraries, autism services and flood management are facing massive cuts."
Photo credit: Kevin Hadley This work is licensed under a Creative Commons Attribution-Share Alike 3.0 Unported License.