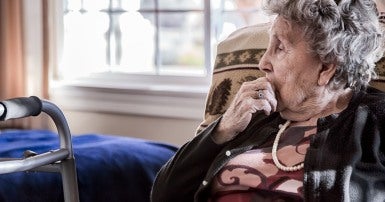 CUPE's response to Nova Scotia Expert Advisory Panel to Recommend Improvements in Long-Term Care Report
The Expert Advisory Panel to Recommend Improvements in Long-Term Care missed a golden opportunity to recommend the needed steps to fix the underlying problems in long-term care in Nova Scotia.
The panel should have recommended a 4.1 hours of direct care per resident per day (hprd) ratio that would give long-term care (LTC) workers the time to care. Evidence for a 4.1 hprd is strong and long-standing. Instead, the panel made recommendations to patch the holes in the system with untrained workers who will require on-the-job training, further taking time away from care.
There are some positives in the report that the government needs to implement immediately, like the reinstatement of the CCA bursary. CUPE NS calls on the government to go beyond the panel's recommended bursary and strongly support continuing care worker training with study grants so that students can live and study at the same time. CUPE NS supports the panel's recommendation that the NS LTC Pressure Injury Prevention Strategy be fully implemented.
CUPE NS has grave concern that the recommendation for "long-term care assistants" will not solve the challenges in the sector.
CUPE Nova Scotia President Nan McFadgen says, "The LTC sector is on fire and this report gives it a glass water. What we need is a serious recruitment and retention strategy. We don't need Assistants to Assistants. Continuing care assistants (CCAs) haven't had a raise since 2013."
"Our members want to provide the best possible care to residents of long-term care. The government needs to stop its attack on long-term care workers under Bill 148 to encourage the return of workers who have left the field to pursue better paid and better respected work options," says McFadgen.
"Respect for people working in the sector would require increases to the pay for CCAs, who start at $16.38/hr."
CUPE NS Long-Term Care Coordinating Committee (LTCCC) Chairperson Louise Riley says, "We are very disappointed that the panel did not recommend a 4.1 hours of direct care per resident per day ratio. What we got instead was a recommendation to add unqualified temporary workers to the care mix."
"Continuing care assistants are highly qualified and dedicated workers who perform hundreds of skilled tasks every day such as lifts and transfers, feeding, bathing, and dressing. This is skilled work that someone off the street cannot participate in if we are concerned about quality of care," says Riley. "This panel has not addressed the key aspects that are driving people leaving the sector they love – mandated shifts, required overtime, 12 to 24 hours shifts, working short, lack of vacation time, last minute changes to schedules, and poor pay."
CUPE National Representative Kathy MacLeod says, "The government cannot hide behind the Expert Panel's Report and not increase investments in care."
"We have a shortage of continuing care assistants because this government has created a situation where CCAs are over-worked and don't have the time to care," says MacLeod. "After attacking the front-line workers and cutting staff and freezing wages, it is no surprise that there is a crisis in recruiting and retaining qualified CCAs and LPNs."
CUPE represents approximately 4,000 members working in 48 long-term care homes across Nova Scotia.