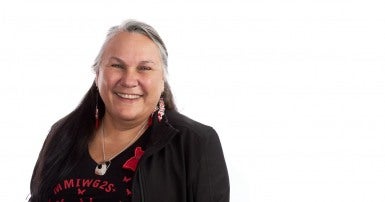 An experienced activist for Indigenous issues, Debra Merrier was elected to her first term as Diversity Vice-President on CUPE's National Executive Board at its National Convention in October 2019.
Debra is Cree, originally from Grouard, Alberta. She has been an active member of Local 728 in Surrey, British Columbia since 2004 and has held the position of Aboriginal youth care worker within the Aboriginal Department since 1996. She has served in many roles within her local including shop steward, second vice-president as well as secretary-treasurer and has sat on various local committees. Debra also serves as CUPE BC's Diversity Vice-President for Indigenous Workers since 2015.
Debra has dedicated herself to empowering Indigenous Peoples in Canada, fighting for justice for murdered and missing Indigenous women and girls, and many initiatives including the Truth and Reconciliation Commission, the Moose Hide Campaign, Orange Shirt Day (residential schools) and Aboriginal Veterans Day. She believes in the power of sharing our history and our acknowledgement of our Peoples and Elders. 
"I am Kokum, I am Mother, I am sister, auntie and walk to the talk of our teaching. Meegwetch."