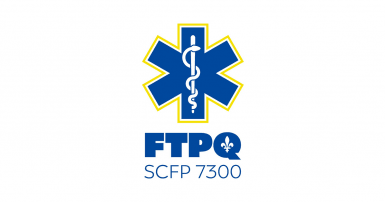 The Fraternité des travailleurs et travailleuses du préhospitalier du Québec (FTPQ, CUPE 7300) commends the recognition of paramedics' expertise in the medical field within the Quebec public health care system and the expansion of their scope of practice. Quebec paramedics are competent and are currently underutilized in a public health care system that is going through a personnel management crisis.
This nice gesture conceals a serious governance crisis within the private management of emergency prehospital care. In certain locations, paramedics can be loaned to the public health care system, while elsewhere, service has to be cut and mandatory overtime imposed.
"It's all well and good to offer assistance to public sector hospitals, but we must also think about paramedics who are unable to take the leave they are entitled to and have to contend with a crushing workload due to the fact ambulances must be taken off the road because of staff shortages. The Comité national de transformation des soins préhospitaliers d'urgence (CNTSPU) was supposed to review the governance of ambulance companies, but the recommendations it came up with weren't forceful enough. It is clear then that the cooperative and public models do not seem to be affected by personnel shortages that are plaguing some other management models," declared Benoit Cowell, president of the FTPQ.