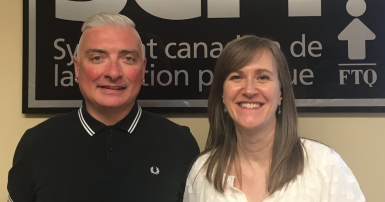 CUPE testified before the Standing Senate Committee on Transport and Communications in connection with the review of Bill C-11 that modernizes the Broadcasting Act to include internet distribution platforms.
"The Streaming Act must clearly include online broadcasting projects and mention the financing of local news and community programming, not only independent production, to send a clear message to regulators regarding the importance of these types of programming to our democracy," says Tulsa Valin-Landry, President of the Conseil provincial du secteur des communications (CPSC) of CUPE.
Time is running out for traditional broadcasters, which have been running a deficit in Quebec since 2014 and in the rest of Canada since 2012.
CUPE believes that a healthier, competitive environment must be established to deal with multinational online broadcasts that do not have to meet any regulatory obligations. The bill must also put all program producers and industry actors on equal footing to protect cultural sovereignty and 50,000 Canadian broadcasting jobs. 
"C-11 must be seen as a remedy to address inaction by government that have allowed foreign online broadcasters to innovate in the Canadian market for a decade with no regulatory oversight. Now, ten years later, American online broadcasting are threatening to disrupt Canadian broadcasting even more by offering packages with advertising, which will intensify pressure felt by Canadian broadcasters. The bill must enable the latter to take advantage of economies of scale by allowing them to produce all types of programs with their own personnel," says Nathalie Blais, a union representative in the CUPE research department.
The bill must be rebalanced by establishing better parameters for government authority and permitting the public to request a review of all CRTC rulings that are not in line with Canadian broadcasting policy. C-11 must maintain the public hearings process for the renewal of orders and to strengthen CRTC accountability.