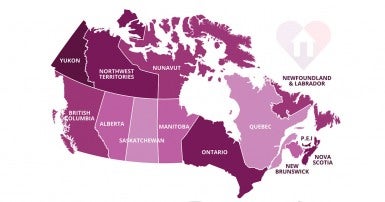 The Canadian Network of Women's Shelters & Transition Houses has launched a new online resource for women and children escaping domestic violence. CUPE has joined with several other organizations in support of this vital resource.
"CUPE members are on the front line serving the victims of domestic violence. This new resource will help ensure women and children can find the services and support our members deliver when they need it most," said Paul Moist, national president of CUPE. 
Using the clickable map on sheltersafe.ca, women can connect quickly with shelter services in their community. Shelters offer counseling and referrals as well as a safe place to stay. They can help women develop a safety plan and help unions and employers with advice and training on domestic violence at work.
"We want women to know that they are not alone, that help is available 24-hours a day," said Lise Martin, Executive Director of the Canadian Network of Women's Shelters and Transition Houses.
CUPE National has donated $10,000 to the Network to assist in launching the new resource.  
On any given night, 4,600 women and their 3,600 children are forced to sleep in women's shelters as a result of domestic violence. The majority of children in shelters are younger than five. On average, every six days a woman in Canada is killed by her intimate partner. 
Any given night 4600 women + 3600 children forced to sleep in shelters due to domestic violence. Support #sheltersafe http://t.co/bgBasFrjC1

—

CUPE

National (@cupenat) June 17, 2015