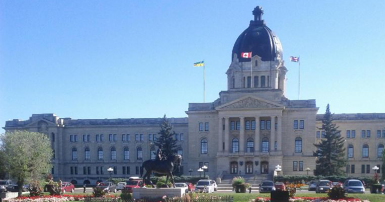 Premier Scott Moe has announced new health measures to stem the surge of COVID-19 cases that is endangering Saskatchewan residents' lives and threatening the integrity of our health care system.  Unfortunately, the premier is still not taking the fourth wave seriously enough.  Education workers in this province welcome these measures but need the province to know that they are not enough.
"The education system is already seeing outbreaks all over the province," said Rob Westfield, an education support worker and chair of CUPE Saskatchewan's Education Workers' Steering Committee.  "Our provincial leaders have failed to protect children and the people who work with them every day."
While the premier has finally acknowledged that province-wide measures such as indoor masking are necessary to prevent more people from dying, school divisions across the province are still left to decide their own approach to the pandemic, and they will not be able to do enough without provincial support.  Some divisions, such as Saskatoon, that already have mask mandates in place have seen dozens of cases in the few weeks school has been back in session.  Clearly, more needs to be done.  This lack of action is especially egregious given that children under 12 are not eligible for vaccination.
"Even if 100 per cent of eligible people in Saskatchewan were fully immunized tomorrow, more than 200,000 children would still be vulnerable to COVID," added Westfield.  "When Scott Moe says this is a pandemic of the 'unvaccinated,' he is talking about the children of this province."
For students and education workers, more action is needed, and every day without it puts more people's lives at risk.  The province needs to put together a single set of regulations for every school division to follow.  These regulations must include mandated cleaning at the same level as the 2020-21 school year; cohorting for students and all educational workers, not only teachers; and a specific, robust outline of how schools will deal with positive cases.  These regulations must be supported by adequate funding for the school divisions.
"Premier Moe needs to stop worrying about how his actions might affect support for his federal counterparts on September 20," said Westfield, "and he needs to stop trying to avoid upsetting his voting base.  Instead, he needs to worry about the health and safety of our province's children.  It's clear that this is not at the top of his mind right now."