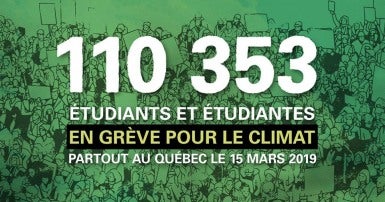 Faced with the lack of action by their respective governments, young people and adults the world over will be demonstrating on Friday, March 15 in protest. In Quebec, more than 100,000 CEGEP and university students voted to strike this Friday. This movement, which was launched by young activist Greta Thunberg in Sweden, has grown considerably.
"I understand these young people who want concrete action to be taken. Evidence of the climate crisis is increasingly visible, and we can't stand idly by. The young people have decided to take to the streets in protest, and more power to them. They deserve our support, because they are doing this for all of us," declared Denis Bolduc, the President of CUPE-Quebec.
With demonstrations in more than 50 countries, this mobilization is unprecedented. In Quebec, several are slated for Gatineau, Gaspé, Trois-Rivières and Joliette.
"Hats off to this collective awakening by young people in Quebec. I am also hopeful that CUPE members and the public at large will turn out in large numbers to give them support," said Denis Bolduc.
Here's the list of meeting points for cities and towns in Quebec.