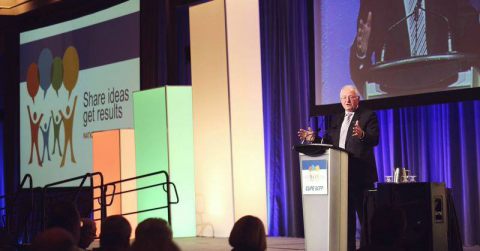 National President Paul Moist opened CUPE's first ever National Sector Council Conference by focusing on the union's strength, declaring: "We win when we work together." Moist saluted the more than 1,200 participants from over 400 locals who came to Toronto, eager to learn from each other, brainstorm strategies to protect members, and make a stronger movement.
The key issues for these discussions will be collective bargaining, pensions, fair minimum pay, and pushing back against the cuts coming from governments' austerity budgets. Participants will focus their discussion on how to make gains for workers in a tough bargaining environment.
Stressing the importance of looking beyond this conference, Moist emphasized the need to get active politically, as well as at the bargaining table. Calling our current political reality a "tipping point," he urged participants to take inspiration from previous generations who built the union from nothing by sticking together, and to pay it forward by defending quality public services and good jobs for future generations.
"We owe it to our future members, Canada's children and grandchildren to fight to defend quality public services and protect and establish quality jobs," said Moist. I believe profoundly in our union and the power of collective action."
Sharply critical of Prime Minister Harper, whose nine years of dogmatic government he said have changed the fabric of the country, Moist reminded participants that by working together and with other progressives, they can achieve their vision of a fair and equitable Canada.