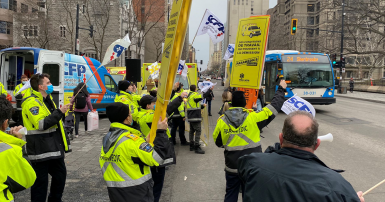 Paramedics with the Canadian Union of Public Employees (FTPQ-CUPE 7300) and several other CUPE members demonstrated in front of the Montreal offices of Premier Legault. They marked the two-year anniversary of the date their collective agreement expired.
About one hundred or so demonstrators issued a reminder that the Government of Quebec was allowing negotiations to drag on by refusing to make reasonable improvements to wages and working conditions. Devaluation and labour shortages have hit the profession hard. This has not only affected response times in emergencies but has also been costly in terms of maintaining expertise and providing top-quality interventions.
"We've seen many paramedics in our ranks who, despite having 5, 10 or 12 years in the field, decide to leave the profession. This was a rather infrequent occurrence at one time, but with the pandemic and staff shortages, the situation has grown alarming. Under the circumstances, on-call schedules that require paramedics to be available 24 hours a day for 7 days have caused much hardship. Now that they've allowed us to go two years with no collective agreement, the government must tackle the problems without further delay," explained Benoit Cowell, president of the Fraternité des travailleurs et travailleuses du préhospitalier du Québec (FTPQ-CUPE 7300).
The union took the opportunity afforded by the event to comment on the health-care reform plan proposed by Minister Dubé earlier this week. This ambitious plan will rely in part on paramedic services workers. It is indicated on page 48 of the document that the paramedics' work has greatly evolved but that the organization of the system itself struggles to keep pace. A policy aimed at modernizing and changing the culture of the sector where the paramedics' scope of practice would be expanded was described by the FTPQ as interesting. However, it reminded the Minister that he will have to start at the beginning, in other words, give his negotiators a mandate to evaluate employment jointly and to negotiate an acceptable classification for staff in the sector.
In spite of significant efforts made by the union, no discussions have been held on job evaluations. The best way of recognizing that employment has evolved would be to sit down and examine this issue with the unions representing these workers, not by forcing them to abide by a structure dating back to 2006 and for which union evaluations were never taken into account by the employer. The FTPQ has been waiting for an answer from the Conseil du trésor on the employer's job evaluation for months now.
w.