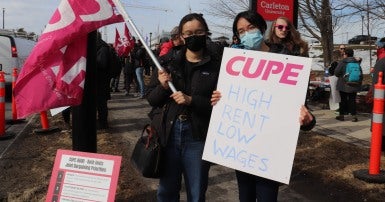 In an important act of solidarity, delegates to CUPE Ontario's annual convention voted unanimously to support Toronto residents struggling with skyrocketing rents: they passed a resolution directing their union to make a financial contribution to a tenants' group that is coordinating a rent strike against unreasonable rent increases in their buildings.
In response, CUPE Ontario has made contributions of $5000 each to Thorncliffe Park Tenant Rent Strike Fund and to York South-Weston Tenant Union. Both groups are coordinating rent strikes in protest against above-guideline hikes in rent.
"In the middle of an affordability crisis, giant corporate landlords are jacking up rents and pricing people out of their homes," said CUPE Ontario President Fred Hahn. "But those same despicable moves have created a network of amazing activists – ordinary people who have been pushed too far by corporate greed and who are saying 'enough is enough.'
"CUPE Ontario members support these tenant unions and their courageous and important organizing. And we're proud to support their strike actions."
Rent strikes continue at both 33 King Street in York South-Weston and at 71, 75 and 79 Thorncliffe Park Drive. The emergency resolution was proposed by a CUPE Ontario member who is one of the affected tenants in Thorncliffe Park.
"The impact of unfair rate hikes hurts the very people that Toronto relies on – people who work for the city, who work in social services, education, universities, hospitals and long-term care," said Hahn.
"Many organizing in these tenant unions are CUPE members, but our union's solidarity extends to everyone and every group struggling for the right to a decent job, a decent living, and a decent home."
The rent strikes are a product of grassroots community organizing and are part of a determined response to unfair rent increases, and tenants coming together to form unions to protest has clear parallels with union organizing.
"Tenants are talking to each other, to their neighbours, and building the solidarity that enables them to take collective action like these rent strikes. It's the model we recognize in the labour movement, and we will do what we can to support it, including encouraging other unions through the OFL to make donations and support these strikes." said Hahn.
"We know we have to work together, and that when people work together to build power, we can make change," said Hahn. "We applaud community organizers like Chiara Padovani, Khalil Aldroubi, and Tricia-Ann Israel, and everyone organizing in both these tenant unions. They are taking direct action in the face of the rampant greed."
Financial donations are the beginning of the solidarity work that CUPE Ontario will provide to these tenant strikes. The union is connecting tenant organizers with local leaders and is planning to take part in the tenants' march planned for early July.
CUPE Ontario encourages support for striking tenants through donations to York-South Weston Tenant Union and Thorncliffe Park Tenants Rent Strike Fund.