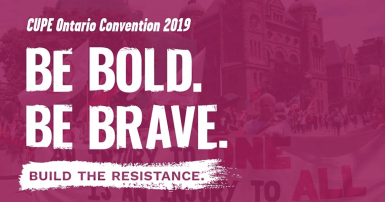 In the wake of the Ford Conservatives' move to delay cuts to municipalities, members of CUPE will turn out in full force on Thursday for a march to Queen's Park to increase the pressure that the government is currently feeling from everyday Ontarians.
Over 1000 delegates are gathered in Toronto for CUPE Ontario's 56th annual convention. They will join tomorrow's march, which will begin at Queen West and Bay street, and finish with a rally on the front lawn of Queen's Park. 
Along the way, delegates make a stop at Mount Sinai Hospital on University Avenue in a display of solidarity with the members of CUPE 79, who are currently in contract negotiations with the hospital, before continuing to the rally at the Ontario legislature. 
Speakers for the rally include:
Mount Sinai Speakers
David Mitchell, President, CUPE 79
Fred Shilson, Recording Secretary, CUPE 79
Queen's Park Speakers
Mark Hancock, President, CUPE National
Andrea Horwath, Leader of the Ontario NDP and Leader of the Official Opposition in Ontario
Deena Ladd, Chair of Fight for $15 and Fairness
Felipe Nagata, Chair, Canadian Federation of Students – Ontario
Yolanda McClean, President Coalition of Black Trade Unionists Canada and 2nd Vice President CUPE Ontario
Fred Hahn, President of CUPE Ontario