Good Neighbour Agreement would enable school support staff to be re-deployed to assist with COVID crisis and prevent job layoffs
The Canadian Union of Public Employees (CUPE), representing school support staff, is calling on the Newfoundland and Labrador School Board Association (NLSBA) to work together to finalize a Good Neighbour Agreement that would provide job protections and enable the Province to re-deploy staff to work where they are most needed during the COVID-19 pandemic.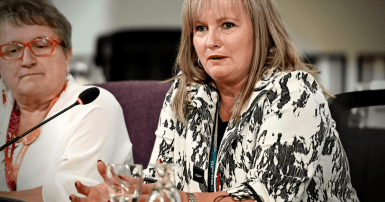 CUPE NL President Sherry Hillier says, "Discussions about the agreement began in the summer of 2020; however, we have a number of questions that require answers and there are outstanding issues to be resolved before we can sign on."
"We hope that can happen as soon as possible, to ensure a planned and timely response to the COVID-19 pandemic in our schools. We are also reaching out to the other unions now to try to resume this important piece of work," adds Hillier.
"CUPE staff representatives have also been trying to get decisions and information from the Newfoundland and Labrador English School District since Tuesday, when the new outbreak was announced, from one of our employers, with no answers. It has been very frustrating and we're disappointed that they have not followed the recommendations given by the Chief Medical Officer and the Province," says Hillier. "All staff that can work from home should be allowed to do so – immediately."
"Our school board members are understandably stressed and worried about the situation and we have received many calls and messages from them, asking for direction and expressing how upsetting this is, for themselves and for their families. They have the right to refuse unsafe work," says Hillier.
CUPE staff representatives will continue to work with locals to address their members' concerns and to try to get answers from the NLESD.
About CUPE NL
In all, CUPE represents almost 700 members employed as school support staff at approximately 180 schools across the province. They work as custodians, maintenance, tradespeople, school board office clerical, school secretaries, information technologists, and program assistants. In the Avalon region, CUPE represents approximately 500 members who work at 124 schools.