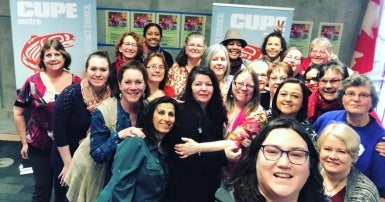 Women from the Metro Vancouver District Council hosted their annual International Women's Day (IWD) lunch in Surrey, BC last Thursday. The event is hosted in a different community each year and focuses on bringing activists and community members together to celebrate and honour women.
This year's event opened with a blessing from CUPE 728 member Chandra Antone, and the reading of "Not One Step Back" by a group of female CUPE Metro volunteers.
Shelley Sage Ricci, Indigenous Workers Representative for the BC Federation of Labour and CUPE 728 executive member, then spoke about the meaning of International Women's Day and this year's theme #PressForProgress.
"International Women's Day is all about unity, celebration, reflection, advocacy, and action – whatever that looks like globally and at a local level. This year the campaign theme is #PressForProgress – a strong call for collective action to establish gender inclusivity around the world."
Ricci defined the difference between inclusivity and equality saying that "we need inclusivity to wrap our arms around each other, and to lift each other up no matter your skin colour, your economic level, no matter if you're born with female parts, or come to identify as female through your earth walk, we need to band together and we need one heart and one mind. We need allyship."
CUPE 402 President Jeannie Kilby also spoke and shared some of the actions the BC Government has recently taken to help make positive change for women. This includes:
Establishment of New Parliamentary Secretary for Gender Equity.
Esquimalt-Metchosin MLA Mitzi Dean will serve as Parliamentary Secretary for Gender Equity. She will serve under the direction of Minister of Finance Carole James and has the following responsibilities:

Ensuring gender equity is reflected in government budgets, policies and programs;
Co-ordinating cross-government action on gender issues, including gender violence, gender equality and women's economic empowerment;
Tracking progress on the National Inquiry into Missing and Murdered Indigenous Women;
Liaising with feminist and women's organizations; and
Promoting gender equity and leadership at senior levels in the public and private sector.
 ​

Child Care
This year's budget provides $1.2 billion over three years in new funding creating a path to a fully universal child care program within 10 years.  There will also be a new affordable childcare benefit that will be income tested.  There is a plan to significantly reduce parent fees for licensed care and an improvement to workforce development in the form of training and retaining ECE's in the sector.  There is also a plan to create 22,000 new licensed child care spaces as well as to provide supports to unlicensed providers if they want to convert to becoming licensed providers.
  
Tax Measures
Medical Service Premiums (MSP) will be phased out by 2020 and will be replaced with an Employer Heath Tax (EHT) starting next year. The EHT is a progressive tax and will take into account ability to pay. Not only will the creation of an EHT make the finding of the provincial health plan fairer, requiring all employers to pay their fair share, not just good employers.  This tax measure will also ensure that those who are precariously employed in part-time, casual and auxiliary positions, who may not have had coverage the relief to know that they won't have to struggle to pay MSP premiums.
  
Housing
There will be a $6 billion investment over 10 years for housing. $141 million over three years and $734 million over 10 years in supportive housing for women and children fleeing abuse.
Kilby also shared a bit of her personal experience as the first female labourer in the City of Surrey's outside workforce almost 34 years ago.
"I didn't enter into that work situation expecting to change the workforce, I went to work everyday and just wanted to do my job to the best of my ability and to be treated equally and fairly. I'm happy to say that the City outside workforce did change and today we have over 40 full time women working in non-traditional roles."
Following lunch Vanessa Richards led participants in singing a variety of songs that highlighted the strength of women working together. All attendees were also sent home with a package filled with food and personal items.
"We're so grateful to the CUPE Metro delegates who help put on this event," said Sarah Bjorknas, CUPE Metro Recording Secretary and one of the event organizers. "We all look forward to doing this every year as an opportunity to work together and to welcome women and children from the community and share lunch with them. All of the great skills and hard work the volunteers bring creates a beautiful, celebratory and safe space for women."
Visit the CUPE BC gallery to view photos.