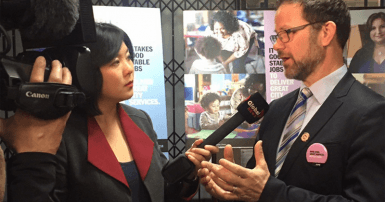 Local 79 of the Canadian Union of Public Employees began work to rule action this morning, as a deal with the City of Toronto was not concluded by 12:01 a.m. The union has been trying to negotiate a new contract with the city since October.
"Local 79 is concerned about the pace of progress," said Tim Maguire, president of Local 79. "Our position has been clear and consistent; we have removed dozens of proposals from the table, the city has not. If we are to reach a negotiated settlement, the city needs to meet us halfway."
The key elements of Local 79's framework for settlement:
Reverse the trend to increasingly insecure, unstable work with some commitment to scheduling predictability for our more than 10,000 part-time, temporary or seasonal workers
No cuts requiring frontline workers to pay hundreds or even thousands out of their pockets
A joint process to review benefits and identify cost efficiencies and savings
A modest wage increase, consistent with other city employee group
Maguire said the City's behavior at this late hour is consistent with its approach throughout bargaining. "By and large, they have simply not negotiated: They tabled harsh cuts weeks ago, and for the most part have refused to budge an inch.
"While the Mayor has told Toronto residents he's interested in a fair deal, it is clear his bargaining team has been instructed to push for a deal that would leave city workers with less than they have today. That's not leadership."
Maguire said the work to rule campaign will not affect service delivery Toronto residents depend on. "Our frontline workers will be undertaking actions that affect their employer, without causing any service disruption."
The work to rule actions will include workers being asked to show up and leave on time, and not do any extra work; to take all their breaks and uninterrupted lunches. "These frontline workers understand the importance of the services they deliver, and the extra time they routinely work demonstrates how much they care. As long as this does not put people at risk, in recreation or child care centres for example, these workers will no longer be working extra hours or through their breaks for free."
"The city achieves savings and efficiencies every day, as these dedicated workers arrive early, stay late, and work through their breaks and lunches," said Maguire. "This work to rule action will give the City a clear idea of just how much our members give to the city."
Other workers' actions will include not accepting multiple tasks or work not listed as primary duties in their job description; volunteering time to attend meetings, taking work calls at home.
There will be no work to rule activities if there is sufficient progress, and a tentative deal is near. "If necessary, we are prepared to work past midnight and into the morning to reach a deal."
For more information, please contact:
Katrina Miller, 647-272-5024
Cim Nunn, 416-627-7695
Kevin Wilson, 416-821-6641