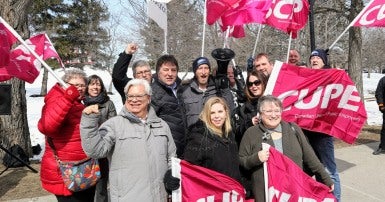 Hundreds of striking CUPE 2424 members got a boost on Wednesday, as members of CUPE's National Executive Board (NEB) joined them for a solidarity picket outside Carleton University.
Over 800 administrative, technical, and library workers at the university have been striking since March 4 to defend their pensions. Carleton management has been trying to water down pension language during bargaining, but CUPE members have been holding the line.
CUPE leaders from across Canada, in Ottawa this week for meetings of CUPE's National Executive Board, were enthusiastic to show their support and send a message to the university administration.
"Our members would rather be inside working with and for students than out here," said CUPE National President Mark Hancock. "But we're not going to stand idly by and let the university take away pensions that our members have earned. All 650,000 CUPE members are here with you in solidarity and will support you until this strike is over."
"We are proud of your standing together to defend pensions," added CUPE Ontario President Fred Hahn. "Your fight is our fight."
For more photos of the picket, check out our post on Facebook.