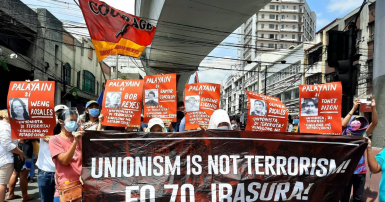 CUPE
is shocked to learn of a brutal crackdown on activists in the Philippines. On the eve of International Woman's Day, the Armed Forces of the Philippines - Philippine National Police (
AFP
-
PNP
) - killed nine people and arrested six others, in an attack that targeted activists, trade unionists and rights defenders based in the Calabarzon region. Two leaders of our partner union, the Confederation for Unity, Recognition and Advancement of Government Employees (
COURAGE
) were among those arrested.
On March 4, COURAGE National Council Member and Water Systems Employees Response (WATER) Secretary General, Ramir Corcolon, was arrested in his home in Laguna Province. CUPE members have met with Corcolon on one of our union's delegations to the Philippines. As President of the San Pablo City Water District Employees Association (SPCWDEA), we know him to be a committed public sector trade unionist and leader. Eugene Eugenio, member of COURAGE-Rizal and a former employee of Antipolo City Hall, was also arrested on March 7.
CUPE denounces the regime of Philippines President Rodrigo Duterte, the armed forces and the police for their policy of state terror, legitimized by the Anti-Terror Law of 2020.
This attack, which is being described as "Bloody Sunday," is the latest escalation in an already violent and repressive situation.
We stand in solidarity with COURAGE and all organizations and activists targeted for exercising their right to organize to defend human and labour rights.