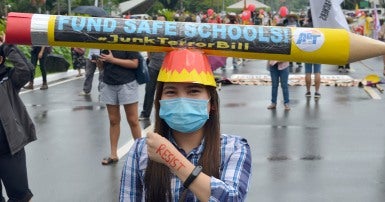 Karin Jordan | CUPE Communications
The COVID-19 pandemic has meant disruption and chaos for workers around the world. The situation is extreme for workers in the Philippines, where the right-wing government of President Rodrigo Duterte is using the pandemic as an excuse to bring in sweeping new measures targeting labour and social justice activists.
In late October, Raymond Basilio, Secretary-General of the Alliance of Concerned Teachers (ACT), joined CUPE's National Global Justice Committee by video to update them on the situation, as a new anti-terrorism law aimed at silencing critics of the regime was rolling out across the country.
Basilio has been in hiding since 2019 because of harassment and death threats, widespread tactics used to silence activists in the Philippines. He continues to speak out and told the committee how ACT is resisting unprecedented repression, while also fighting COVID-19.
ACT has more than 220,000 members and is a long-time CUPE partner in the Philippines.
The country has been under lockdown since March 2020, but the government has failed to contain COVID-19. The anti-terrorism law and lockdown rules are providing cover for "massive human rights violations," said Basilio.
The people of the Philippines were already facing a human rights crisis before the pandemic. The situation is now far worse. Since March, more than 100,000 people have been arrested, Basilio said. People organizing to defend their rights or criticize the government, including ACT members and leaders, are being met with escalating harassment, threats, and violence.
"The anti-terror law altered the notion that one is presumed innocent until proven guilty," said Basilio. "Under the law, one is considered guilty unless proven innocent." ACT members are being harassed online and in flyers for actions like a social media post calling for the repeal of the anti-terror law.
ACT members are also being hit hard by COVID-19. More than 2,000 educators have contracted the virus and have no support. "If you get infected, it will be you who will look for ways to pay for your medical bills and support your needs. The government allots nothing for you," said Basilio. Teachers are struggling to support students during the pandemic and are being held back by limited resources and unreliable power and internet.
The government has used the pandemic to try and stop collective bargaining, membership drives and other ACT union activity.
Basilio credits his "very active and very brilliant members" with actions that forced the government to restart collective bargaining in three regions. ACT also won recognition of online membership applications and has recently certified a new union. Basilio says ACT is moving as much of its work online as possible, although internet service in the country can be unreliable.
ACT also has held mass actions targeting the department of education, winning more funding for teaching supplies and aid for teachers who were laid off when private schools closed.
Basilio says a long-standing campaign to suppress Indigenous Lumad land defenders by attacking community schools has also ramped up. The government has closed all schools on the island of Mindanao, leaving 8,000 Indigenous students without education services, and the Philippines army has destroyed three Indigenous schools with bombs and shells. ACT members in Mindanao have been "red-tagged" as terrorists and falsely accused of crimes.
Despite challenges and danger on so many fronts, "we are very much alive right now," Basilio told committee members.
"We must continue our fight for a just and humane society. We will continue our fight for education as a right. We must continue to fight for a country that will truly take care of its people," said Basilio.
"The support of our brothers and sisters abroad is a big help. Please continue your solidarity with us, please continue to speak on our behalf in the international arena."