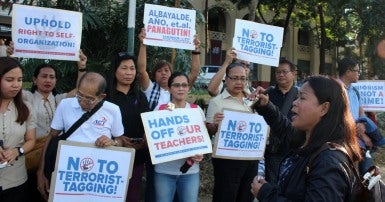 People working to defend trade union and human rights in the Philippines are being targeted for their activism, and CUPE is calling for Canadian government action to help stop the violence and repression.
In the latest crackdown on October 31, 57 rights defenders were arrested, and their offices raided. The leaders were targeted because of their work to ensure safety, security and a higher standard of living for the most marginalized people in the country.
Violence against human rights defenders and trade union activists is becoming commonplace in the Philippines. On October 15 members of CUPE's partner union, the Alliance of Concerned Teachers, survived a murder attempt in their classroom.
For years, progressive movements and organizations that criticize President Rodrigo Duterte's policies and actions have been singled out for state-sponsored profiling and "red-tagging" as terrorist groups, and face harassment, intimidation and threats. Oxfam International and the National Council of Churches (NCCP) have recently been added to the list of red-tagged groups.  
CUPE has written to Prime Minister Justin Trudeau calling on the Canadian government to speak out in defense of the organizations being targeted. Our union is also asking the Canadian government to support independent investigations into the country's human rights situation, led by the International Labour Organization and the United Nations Human Rights Council.
A CUPE delegation to the Philippines in late 2018 shone a spotlight on the ongoing struggles to defend workers' and human rights in the Philippines. The International Trade Union Confederation ranks the Philippines among the 10 most dangerous countries in the world to be a trade unionist.