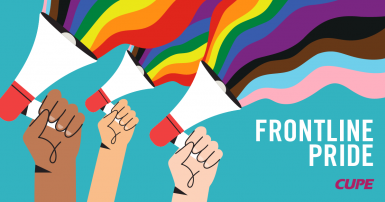 Every year, 2SLGBTQ+ CUPE members and our allies come together to celebrate Pride and demand an end to homophobia, transphobia and oppression. We once again call on governments and employers to prioritize safety for Two-Spirit, queer, and trans workers.
Too often, 2SLGBTQ+ workers are subjected to violence, harassment and exclusion at work. Two-Spirit, trans, and non-binary workers are especially vulnerable to workplace discrimination – especially if they also experience racism, ableism, colonialism, xenophobia and other forms of oppression.
CUPE continues to fight hard for safety in our workplaces and our communities. This Pride season, we are releasing Bargaining beyond the binary: A negotiating guide for trans inclusion and gender diversity. This guide will help locals bring this fight to the bargaining table. It will help all CUPE locals negotiate wins that other locals have already achieved: from trans-affirming care leave to benefit coverage for gender-affirming care.
This Pride season, we invite all CUPE members to join us in person or online for festivities across the country, as we fight for safe and inclusive workplaces for all.
Show your Frontline Pride: