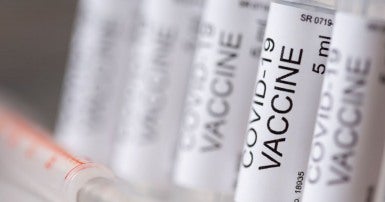 The current market-based approach to vaccine access could leave billions of people in low- and middle-income countries waiting for COVID-19 immunization long after the world's wealthier countries have secured access. That's because intellectual property rules under an agreement at the World Trade Organization (WTO) would currently allow pharmaceutical companies to prevent other manufacturers from producing COVID-19 vaccines, which will slow down production and distribution of immunization across the globe.
On December 3, CUPE National President Mark Hancock and National Secretary-Treasurer Charles Fleury wrote to International Affairs Minister Mary Ng and Foreign Affairs Minister Francois-Philippe Champagne calling on Canada to support a proposal being considered at the WTO to hit pause on these rules.
India, South Africa, Kenya, Eswatini, Pakistan and Mozambique have called for a waiver from certain provisions of the Trade-Related Aspects of Intellectual Property Rights (TRIPS) Agreement for the purposes of prevention, containment, and treatment of COVID-19. CUPE has called on the Government of Canada to wholeheartedly support that proposal.
"Without the waiver, pharmaceutical companies will be able to prevent other manufacturers from producing COVID-19 vaccines and medicines, impeding scaling up of production," reads the letter. "WTO rules ensure big pharma has a monopoly over the market and can dictate prices even to governments, which will consume public finances required for a healthy recovery."
"We again call on the Government of Canada to demonstrate a commitment to global solidarity by supporting the COVID-related waiver proposal and making the waiver of TRIPS."
Read the full letter here.