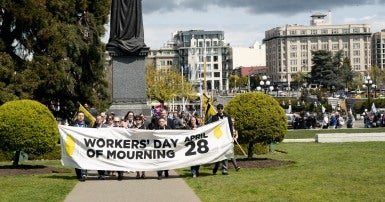 On National Day of Mourning we honour the memory of workers who have been killed or injured or experienced disease and illness as a direct result of their work. This day, established by CUPE activists, has grown into an international event marked by labour and social justice organizations around the world.
Despite the growing number of organizations and governments that recognize this date, we continue to see workers injured and killed on the job. As public employees, CUPE members have been on the frontlines of the COVID-19 pandemic from the very beginning. And as our province faced a series of climate emergencies recently, our members stepped up again, in some cases putting themselves in harm's way to tackle atmospheric rivers, heat domes, and other extreme weather events that have devastated B.C. communities.
In a weather emergency, municipal workers are often an invisible workforce: they go out when everyone else stays in. They do their work at night so that, in the morning, citizens can get to work and school safely. Their work is long, dangerous, and often goes unrecognized. It was during a long stretch of unseasonably cold weather here on the coast that a member of our Local 1004, a Vancouver municipal worker, tragically lost their life. While doing the important work of keeping roads clear and safe—work that allows everyone else to come home safely at the end of the day—they themselves were killed on the job.
With health and safety issues becoming even more urgent during the pandemic, and the climate emergency posing untold risks to frontline workers, it is more important than ever that we raise our voices for better worker health and safety. As trade unionists, we must commit to improving workplace health and safety in all areas, including mental health. We must demand rigorous enforcement of occupational health and safety regulations so that employers are held accountable. We must preserve the dignity of the thousands of workers who suffer injury or illness, ensuring fair and full compensation to those who have been hurt at work. And we must engage, educate, and empower our members so that they become active in their own local occupational health and safety committees.
Keeping workers safe and healthy so that they can come home from work every day is CUPE BC's priority. Thank you to all workers who sacrifice so much for the safety of our communities.