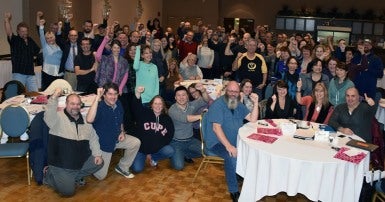 BURNABY- CUPE bargainers from municipal and library locals from the Metro Vancouver and surrounding region met in Burnaby in mid-January for two days of coordinating strategies and issues and developing new bargaining skills.
Day one included bargaining committees from more than 20 locals whose collective agreements are up for renewal. A few locals are in the preliminary stages of bargaining while most are preparing to get to the table. In addition to wages and benefits, addressing issues for precarious workers, including auxiliary and casual workers, pay equity and job evaluation were common concerns across many locals.
Day two looked at effective bargaining communications planning, with local presidents and staff working through a number of key areas to support bargaining. Member communications and mobilization, working with the community and local media and ensuring that we have clear bargaining messages were covered.
CUPE BC President Paul Faoro and Secretary-Treasurer Trevor Davies brought greetings and pledged CUPE BC's support for a successful round of bargaining. Assistant Regional Director Meena Brisard joined the group on the second day, saying that it is a priority for CUPE to provide support for coordination among locals and within regions given the reality that employers are working together.
CUPE's municipal sector coordinator Tom O'Leary and library sector coordinator Zoe Magnus said they were pleased with the turnout and the participation.