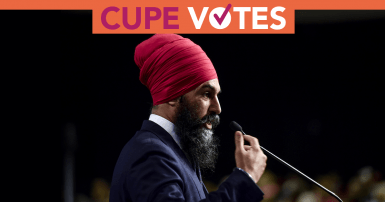 The fight for equality and respect is at the core of CUPE's work as Canada's largest union. We recognize that uniting against all forms of racial discrimination and hatred is central to our work to create a more just and equal country. For this reason, CUPE was pleased to see NDP leader Jagmeet Singh unveil his party's plan to confront racism and discrimination at a townhall hosted by the National Council of Canadian Muslims earlier this week in Toronto.
"Absolutely no one should be made to feel like they don't belong, or that they're not safe – not online, not at school or work, and not in their communities. Too often, though, racialized Canadians still experience discrimination. I'm committed to standing up for people," said Singh.
The NDP plan includes commitments to fight all forms of racism with concrete action, such as passing a federal law to ban the discriminatory practice of carding. CUPE has been a vocal advocate for the abolition of carding for years, which unfairly targets visible minorities and makes members of our communities feel lesser than others.
The plan would also boost resources to fight hate crimes, and force social media companies to take a more active role in ending the use of their platforms to broadcast extremist views and hateful content.
The NDP plan also pledges to take on the issue of employment discrimination, noting that a university-educated Canadian-born member of a racialized community earns 87 cents for every dollar earned by their white peers.
These are concrete measures to fight racism at work, online, and in our communities. The NDP deserves credit for being the only party with an election platform dedicated to fighting racism and intolerance.