Water quality in First Nation communities has been described as "third world." Two-thirds of First Nation communities have been under at least one water advisory over the past decade. On any given day, one-third don't have safe drinking water.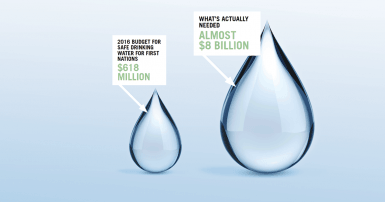 The federal government recently pledged more funding for First Nation water systems, but this is attracting for-profit P3 operators. In BC, a CUPE local and municipality have joined forces with the neighbouring First Nation to help increase the capacity of First Nations, instead of profiting off them.
CUPE 401 and the City of Nanaimo have developed an innovative partnership with the Snuneymuxw First Nation (SFN). SFN workers are job shadowing CUPE 401 members to learn foundational skills in maintaining a quality public water system. The local hopes to expand the mentoring program out to First Nation communities across Vancouver Island.