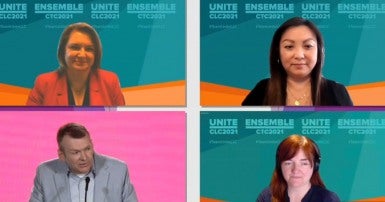 At the CUPE Alberta annual convention on Thursday morning, delegates voted overwhelmingly to support the candidacy of Bea Bruske, Siobhan Vipond and Lily Chang for positions on the executive of the Canadian Labour Congress. The election is taking place at the CLC virtual convention on June 16-18.
The motion from the floor, put forward by CUPE Alberta Recording Secretary John Vradenburgh came following presentations from the three Team Unite candidates. "I liked the ideas that Bea, Siobhan and Lily are bringing to the table, and I am excited for their election at the upcoming CLC convention," said Vradenburgh.
CUPE Alberta President Rory Gill accepted the motion and put it straight to a vote with 96% delegates voting in favour: "I meant what I said on the convention floor, Team Unite is made up of three incredible labour leaders, they really are a super slate. I am glad to see our membership coming forward to show them our strong support," said Gill.
Bea Bruske is running for CLC President, Siobhan Vipond is running for CLC Executive Vice-President and CUPE's own Lily Chang is running for CLC Secretary-Treasurer. To learn more about Team Unite, click here.