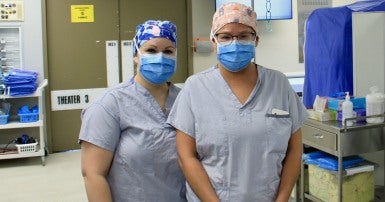 As the province commemorates National Nursing Week, CUPE 5430 is advocating for the Saskatchewan government to acknowledge and appreciate an essential segment of the nursing workforce that is frequently undervalued and underutilized – Licensed Practical Nurses (LPNs).
"National Nursing Week serves as an opportune time to recognize the invaluable contributions made by all members of the nursing team. While Registered Nurses (RNs) and Nurse Practitioners (NPs) often receive well-deserved attention, it is crucial to remember that LPNs play a critical role in delivering a safe and efficient health care services to patients throughout Saskatchewan," said Bashir Jalloh, president of CUPE 5430.
LPNs possess a wealth of knowledge and expertise in their field, making them an essential part of the interdisciplinary care team. They are highly skilled professionals who are trained to provide compassionate, safe, competent care across a wide range of health care settings, including acute care hospitals, long-term care facilities, and community clinics. LPNs possess the necessary education and competencies to fulfill many roles in the health care system, including but not limited to, administering medications, monitor patients, perform assessments, and provide direct care. LPNs are self-regulated and work independently as well as in collaboration with the whole health care team.
"It is disheartening to witness the consistent underutilization of LPNs within the health care system. Our potential is often overlooked, resulting in missed opportunities to optimize patient care outcomes and address the growing demands faced by our health care facilities," said Sandee Michalchuk, chair of the CUPE 5430 LPN committee.
With growing demands on health care staff, we need all hands on deck. The unnecessary restriction of any classification of nurses seems like a waste of resources. Maximizing LPN practice and allowing us to fully utilize our education, skills, knowledge, and experience will ultimately improve the quality of care delivered to patients across Saskatchewan.
CUPE 5430 urges the Saskatchewan government and health care management to take immediate action to recognize and empower LPNs. This includes implementing policies and initiatives that promote the maximization of the LPNs scope of practice, as well as providing adequate resources and training opportunities to enhance their professional growth.
CUPE 5430 represents over 13,000 health care providers across Saskatchewan. Our members are dedicated to delivering high-quality health care services to communities throughout the province. We advocate for fair working conditions, safe staffing levels, and equitable compensation for our members, while ensuring the provision of excellent care to all patients. To learn more about CUPE 5430, please visit our website at www.cupe5430.org.