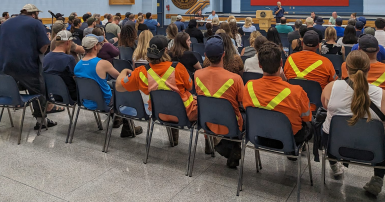 After two days of bargaining the Town of Whitby continues to push for unnecessary and harmful concessions, says municipal workers represented by CUPE 53.
"Yesterday, the employer put out a media release saying that we rejected an offer that included wage increases and benefit improvements but that's, at best, only half true," said Rob Radford, president of CUPE 53, representing the approximately 300 Unit 2 members facing a potential strike or lockout as of 12:01am on October 14. "What the release didn't say is that those elements are part of a package deal, meaning we can't separate out pieces we like from the pieces we don't. And there are many things in this package we absolutely don't like."
After 13 bargaining dates, including four days with a conciliation officer, the employer filed for a "No Board" triggering the strike deadline of October 14. Following two bargaining dates on October 2 and 3, the two sides have yet to come to an agreement.
There are a number of remaining issues, but some key ones are scheduling, temporary employees, and job postings. The union is saying that the employer is proposing that all negotiated hours of work are gone in certain situations, wreaking havoc on workers' schedules and work-life balance; that the employer wants to shift towards relying on temporary workers more rather than ensuring a path to permanent work; and that they want to prevent current workers from being prioritized when there's a job posting.
"We're surprised and disturbed that the employer would send, at best, incomplete and, at worst, misleading messages to the members and to the public through a media release about their bargaining proposals while we were still under the impression that bargaining was still ongoing," said Radford. "Their media release talks about 'flexibility' in schedules. If your hours were changed drastically and you couldn't pick up your kids from school, or make plans to visit family, or take your kids to important doctors' appointments: that's not flexibility. That's complete chaos and we simply don't deserve it."
"We're now appealing to Town of Whitby councillors and the mayor directly to support us because they give the employer their mandate and are the ones to sign off on the employer's final proposal," said Radford. "They need to be made aware that this is a bad deal and that we deserve better because we keep the Town of Whitby running. That's why we'll be attending council meetings to make our voices heard; emailing and calling elected representatives; and letting residents of Whitby know about the services we deliver and that we deserve better than precarious work and unstable shifts."
CUPE 53 is encouraging members and the residents of Whitby to send a message to the Town of Whitby here: https://cupe.ca/SupportWhitbyMunicipalWorkers