Members from Local 32 of the Canadian Union of Public Employees (CUPE 32) voted overwhelmingly in favour of ratifying a new collective agreement with the City of Cambridge, ending their strike after one week. The deal was reached late last night after an extensive day of bargaining.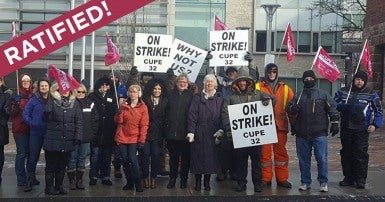 The new collective agreement expires on December 31, 2020 and addresses the wage disparity issues raised by the union during the strike.
"Our members are looking forward to getting back to work serving the residents of Cambridge," said Ray Burigana, president of CUPE 32, "we are satisfied with the agreement and are happy that the strike didn't drag on."
Members of CUPE 32 will return to their jobs tomorrow.
The six-day strike marked the first labour disruption in the City of Cambridge since 1978.
Negotiations are still ongoing between the City of Cambridge and CUPE 1882 which represents the city's inside workers. Currently, the City has filed for a no-board, which could result in a lockout of the inside workers as early as Friday, February 17.