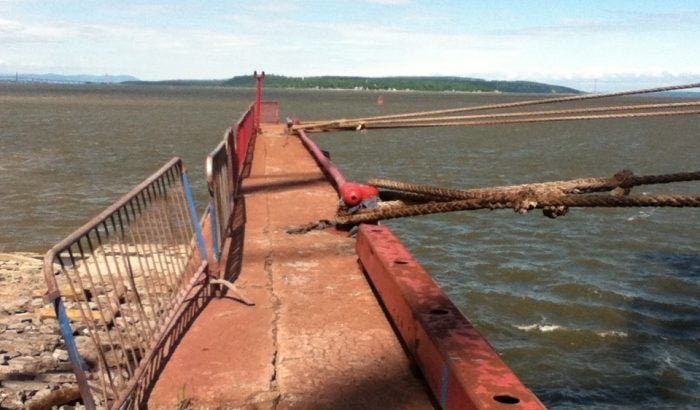 You can feel the anger growing at the Port of Québec. CUPE 2614, representing about 100 longshoremen, is concerned about the dangerous conditions of the wharves and the inaction on the part of the port authorities and the federal government towards fixing them.
The wharves have deteriorated because of a lack of investment in infrastructure. The longshoremen's union wants a rapid upgrade of the wharves, which have been neglected in federal budgets for the last few years.
"Despite numerous accidents, the port authorities have not budged an inch. Our duty is to ensure that each of our members goes home safe and sound at the end of their shift," said Stéphan Arsenault, president of CUPE 2614.
The union also denounced the lack of transparency in the management of the Port.
"We are not informed of anything. The port authorities no longer consult the users of the Port, who are in the best position to tell it like it is. The Board of Administration dictates the Port's priorities, and it seems to us that there is a veil of favouritism shrouding appointments to the Board," added Mr. Arsenault.
Over the next few weeks, the longshoremen's union will increase the number of public appearances in order to raise public awareness and solicit support for the resolution of what is a fundamental issue: occupational health and safety.
With more than 110,000 members in Quebec, CUPE represents longshoremen at the ports of Quebec, Montreal, Trois‑Rivières, Sorel, Matane, and Baie‑Comeau. CUPE is also present in the following sectors: health and social services, communications, education, universities, energy, municipalities, government corporations and public agencies, air and urban transport, and the mixed sector.