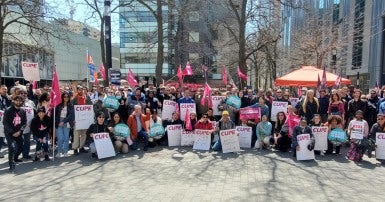 At a noon rally today at Toronto Metropolitan University, striking custodial and maintenance workers were clear in their message – they are strongly united in their campaign for fair wages and a say in their pension, despite insults and misinformation coming from administration.
The week began with TMU President Mohamed Lachemi crossing the picket line and telling faculty association supporters that they were "taking advantage of these people," pointing at CUPE 233 members.
"By suggesting that the TFA is 'taking advantage of us,' president Lachemi is clearly suggesting that CUPE members are just pawns of the faculty association, and that we are not intelligent enough to negotiate based on our own analysis of the Administration's inadequate offers," said one of the CUPE members who witnessed the incident.
CUPE 233 vice-president Jason Vigilante was shocked when he heard about the president's comments. "This is incredible. This university has spent millions on a re-naming and re-branding that was supposed to prioritize values of equity and respect. It's been just a few months since the change-over to TMU and president Lachemi is not only refusing to negotiate a decent contract with us, but he is [also] now going out of his way to insult and demean our members. We are the ones that kept this place going through every day of the pandemic," he added.
The members were joined on the picket lines today by CUPE Ontario President Fred Hahn and members from locals across the GTA.
"Momentum continues to grow in CUPE 233 members' fight for better wages and pension fairness. Today, TMU students, faculty, and university staff, and CUPE members from across the GTA joined their picket lines in a show of solidarity and defiance against the employer's disrespect," said Hahn. "CUPE members don't back down. With this groundswell of support, and with donations pouring in to support the striking workers, the members resolve remains strong and we will keep up the fight until a fair deal is reached."
The workers are looking for wage increases that will help them keep up with the rising cost of living in Toronto, after years of being kept below inflation. And they are calling on the university to reverse its new and improper practice of unilaterally increasing worker contribution rates – which are normally negotiated in such pension plans.
"The university is spreading misinformation on campus about the pension fund. The pension is stable and well-funded," said David Simao, Chair of CUPE's university workers' committee. "What the university did was push their responsibility onto workers, all while creating a fund of about $8 million that they can later use to give themselves – and only themselves – a contribution holiday. They say they won't do it, but workers have been stung too many times in the past."
With no movement from the university, despite obviously deteriorating conditions in buildings across the campus, CUPE 233 members plan to step up their campaign as they move into the second week of their strike.
"Management's openly disrespectful treatment of our hard-working members has now moved from the bargaining table to the streets of the campus. They have to stop being disrespectful and start listening," said Vigilante. "What we're asking for is not unreasonable, will keep the pension plan healthy and will restore some semblance of equality."