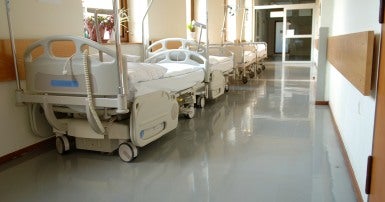 CUPE 204, representing 7,000 health care workers in Winnipeg, continues to speak out against the government's plan to close the Seven Oaks General Hospital Emergency Room (ER) and Intensive Care Unit (ICU), in light of the report by Dr. David Peachey.
"By continuing on the path of closing the Seven Oaks ER and ICU, this government is only going to make a bad plan worse," wrote Debbie Boissonneault, President of CUPE 204, in a letter to the Minister of Health.  "The government has an opportunity to prevent further chaos in the system by doing the right thing and cancelling the plan to close the Seven Oaks ER".
Seven Oaks hospital support staff are scheduled to enter into the "bumping process" on June 17th, by which hundreds of employees must choose new staff rotations in order to accommodate the conversion of the ER into an Urgent Care Centre.
"The government should seriously consider cancelling the plan to close the Seven Oaks ER before hundreds of staff enter into this disruptive and demoralizing process," said Boissonneault.  "Once we go down this path it will be very difficult to turn back time, and with morale so low we are very concerned for the well-being of our members."
The report by Dr. David Peachey confirmed CUPE's position all along, that the health care consolidation plan has an incredibly negative impact on staff morale.  CUPE shares the community's lack of trust in the government's ability to manage the "healing our health system" consolidation plan.
"Health workers across the WRHA have lost confidence in this government's ability to manage the health care system," said Boissonneault.  "As Premier Pallister gets closer to announcing a provincial election, he'd best keep in mind the tens of thousands of Manitobans who work in our health care system, and all the Manitobans who depend on it. We will be voting."
CUPE 204 represents members at:  Bethania Personal Care Home, Concordia Hospital, Golden West Centennial Lodge, Grace Hospital, Health Sciences Centre, Klinic Inc., Lions Personal Care Centre, Luther Home, Middlechurch Home of Winnipeg, Mount Carmel Clinic, Nine Circles Community Health Centre, NorWest Co-op Community Health, Pembina Place Mennonite Personal Care Home, Rehabilitation Centre for Children, Seven Oaks General Hospital, Sexuality Education Resource Centre, St. Joseph's Residence, Women's Health Clinic, WRHA – Midwives, WRHA – Nutrition & Food Services – Regional Distribution Facility.