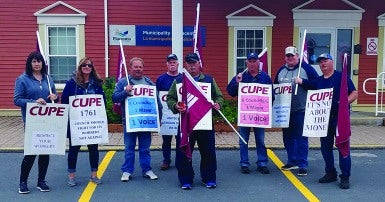 Gaëlle McNeil | CUPE Communications
Municipal employees in the Town of Placentia, NL - members of CUPE 1761 - walked off the job July 16 after more than 14 months of stalled contract negotiations. After a seven-week strike, CUPE 1761 members are returning to work with a four-year collective agreement that includes wage increases and other improvements.
The employer hired outside consultants to do its bargaining - people who did not understand the work of the bargaining unit. Eleven proposals were exchanged, and many meetings were postponed, much to the frustration of the disrespected members.
On March 20 of this year, talks reached an impasse, and the union asked the conciliation officer to file his report. On April 17, the local voted unanimously in favour of a strike. By mid-July, with no bargaining meetings scheduled, the members had reached their limit, and were forced to withdraw services.
"The decision to withdraw services was not made lightly," says CUPE 1761 President Gerry Quilty, "But the members were completely frustrated with the bargaining process, which saw delay after delay and a total lack of commitment on the part of the employer to reach an agreement."
On Aug. 6, CUPE National President Mark Hancock, along with CUPE NL President Sherry Hillier, showed up to support the picket line outside Town Hall. The members received widespread community support for their courage in standing up to the mayor and the Town, and are glad to see the longest round of bargaining in the local's history come to a close.