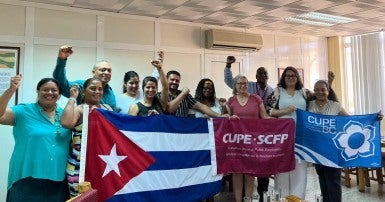 A CUPE delegation has returned from Cuba more determined than ever to support our union partner and the Cuban people in their ongoing struggle against a harsh United States economic blockade. Cubans continue to meet this brutal embargo with resilience and creative resistance. CUPE's partner the National Union of Public Administration Workers (SNTAP) hosted the delegation, which was led by CoDevelopment Canada. For over 20 years, CUPE and SNTAP have found many ways to build solidarity, inspired by the Cuban revolution's spirit of international cooperation and solidarity, known as internationalism.  
The delegation met with leaders of the Workers Central Union of Cuba (CTC), SNTAP and SNTAP Havana. Members visited SNTAP Havana worksites as well as a training centre that CUPE supports, named after beloved revolutionary leader Celia Sanchez. A highlight of the visit was meeting with workers, learning about the issues they face in the workplace, and exchanging information and experiences about the union structures and labour relations models in our respective countries.  
"The solidarity of the Cuban people is inspiring and the single greatest reason that they still exist in the face of the blockade," said delegation member and CUPE British Columbia President Karen Ranalletta. "Frontline workers will always tell you what's up and being among so many was just awesome." 
CUPE BC sponsors a Global Justice Fund project with SNTAP Havana, representing the city's municipal workers. The project supports union members sharing strategies and strengthening health and safety, while also delivering much-needed supplies.  
Decades-long blockade draws global condemnation 
The Cuban people rose up in a revolution against a miliary dictatorship in 1959. At the time, there was a great deal of inequality between rich and poor people, as well as racial segregation targeting Black people. When the new government nationalized U.S.-owned oil refineries the U.S. imposed economic sanctions on Cuba that are still in place. 
On Nov. 3, 2022, for the 30th year in a row, the United Nations General Assembly voted on a non-binding resolution against the blockade that won the overwhelming support of UN member states. Many believe the blockade is a violation of the Cuban people's human rights.   
Workers told delegation members the cruelty of the embargo affects every aspect of their lives. Examples they shared included hospitals being unable to access necessary medical supplies and schools lacking proper materials. Farmers do not have machinery they need to increase their production and the country lacks the materials required to advance technologically.  
Delegation members also saw how workers' resolve to stay united and overcome these challenges remains strong. "We are not going to negotiate our sovereignty," Yaisel Osvaldo Pieter Terry, SNTAP Secretary General, told delegation members. 
Cubans creatively resist US embargo 
Despite the pressure on their working conditions and livelihoods, the Cuban people have shown they are extremely capable, engaging in what they call creative resistance to overcome the embargo - the longest economic blockade in history. They overcame a lack of supplies to create five COVID-19 vaccines that they shared at cost with countries around the world. Life expectancy in Cuba is higher than in the U.S. and the country has one of the world's highest doctor-to-patient ratios. All education including post-secondary education is free, and the Cuban literacy rate is 99.8%.  
Worker-to-worker solidarity, where workers meet and share their common struggles as a class across borders, can be a powerful experience. Delegation members talked about workplace democracy and the structures in place to fight racism in the union and nationally. Delegations like this Cuban visit are a powerful way to dispel myths and boost morale, when so much information we receive about Cuba is filtered through the lens of hostile media and the U.S. government's effort to shatter their economy and break the people's spirit.