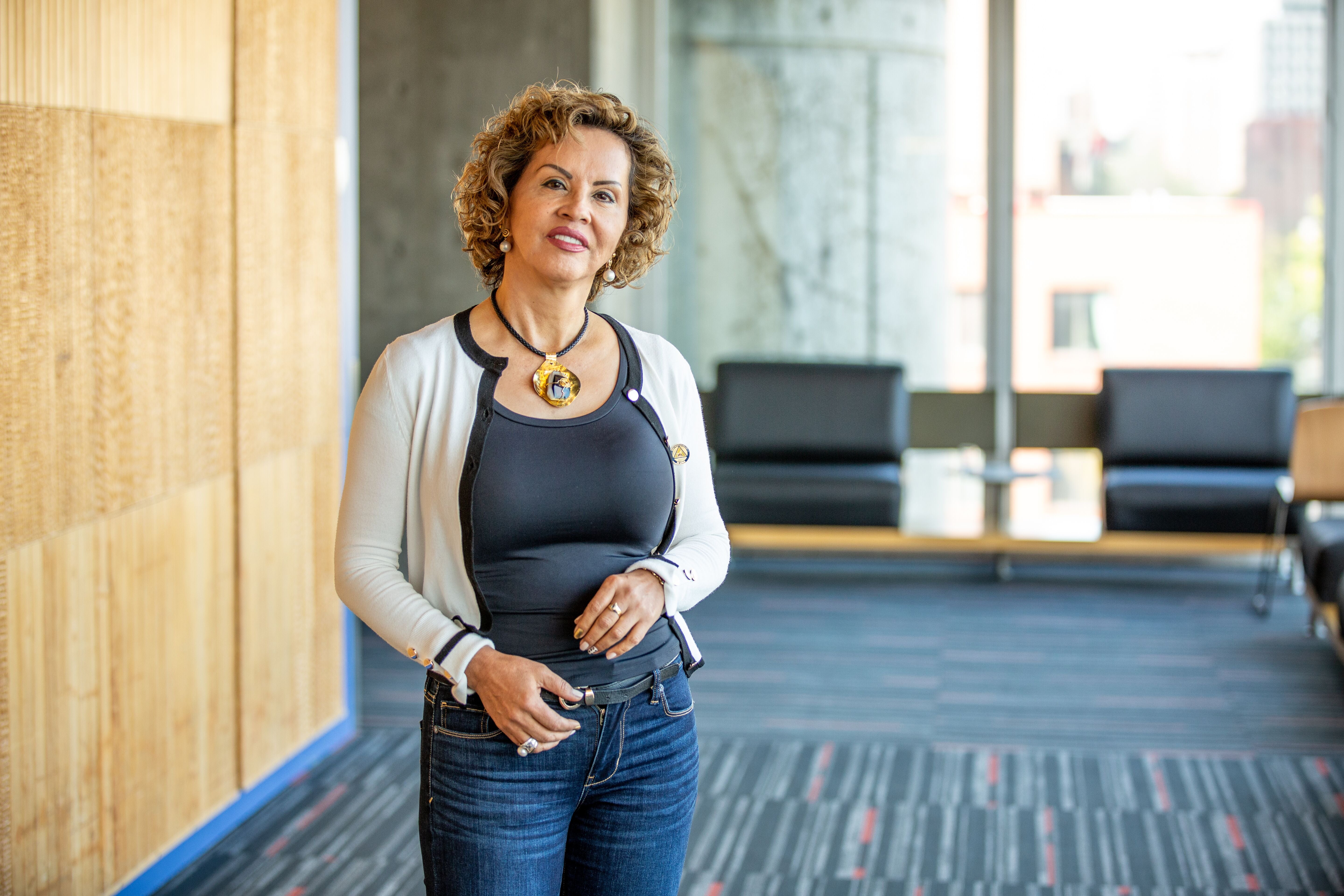 Colombian workers fighting water privatization are up against formidable odds, including repression, violence, and corruption. But they're winning, thanks to the strength of labour-community alliances and international solidarity.
Margarita Lopez is helping build this unstoppable grassroots network of water defenders and community organizers. The president of SINTRACUAVALLE, the union representing workers at a major Colombian public water utility, shared her struggles and successful strategies at CUPE's national convention. She describes the workers leading this movement as "agents of change," who are helping advance human rights and build the resistance to right-wing forces in her country.
SINTRACUAVALLE is a long-time CUPE partner. The union represents workers at ACUAVALLE, which serves more than 700,000 water users in 36 municipalities in the province of Valle de Cauca. Lopez has led the union for the past two decades. In that time, they've defeated numerous attempts to privatize water services.
Lopez describes the fight to stop water privatization as "a sacred task," one that international solidarity plays a vital role in. "With CUPE's support, we are doing important collective work to defend water as a common wealth, as a richness that belongs to all communities."
SINTRACUAVALLE's outreach and organizing connects the dots between the rights of water workers delivering a public service, and the importance of water as a human right. Lopez says successive extreme-right governments have spread misinformation about unions.
The antidote to this propaganda is simple, and effective: show up, listen, and stick around to support community struggles. Workers build trust by showing the community they've got their backs, on water and on other social issues. "They see SINTRACUAVALLE as an ally of the community," says Lopez.
Building a movement to defend public water services is slow, methodical work. SINTRACUAVALLE helps train and empower local committees to fight privatization of water services, and to tackle other community problems. These labour-community alliances have beaten back privatization multiple times, including stopping a major water public-private partnership (P3) in 2018.
"It's the community walking hand-in-hand with the workers to defend their water," Lopez told members attending the national convention municipal sector meeting.
SINTRACUAVALLE also provides free technical advice to communities with little or no access to safe drinking water – a project CUPE directly supports. The union signs community agreements to train local residents how to treat and self-manage their water. The result is increased access to safe, community-controlled local water supplies that won't be privatized. More than 20 per cent of Colombian people don't have access to drinking water, including many Indigenous peoples.
Connecting with people about something as vital as water raises people's political awareness, opening the door to many other conversations, says Lopez.
"We also talk about other topics like climate change and women's rights. When people understand privatization, they can understand the political context in Colombia," she says.
Lopez, her members and their community allies, do this work in the face of violence and death threats, in a country that's an extremely dangerous place to be an activist. Lopez recently faced renewed threats on her life from paramilitary forces. The country is in crisis, she says.
"The crisis is everywhere – in health, in education, in water, in employment," says Lopez. "The government isn't following the peace agreement. They're violating peoples' rights, and there's no guarantee of safety for union leaders and social movement leaders."
The government is introducing new laws that crack down on protests, and at the same time is introducing sweeping reforms to labour rights, the tax system and pensions.
For Lopez, there's only one way forward. "The future for us is to struggle, to keep on struggling."  
CUPE's solidarity and support over the years has "enormous significance," says Lopez. "The support we've felt from CUPE is motivating for us, to keep going in the struggle."