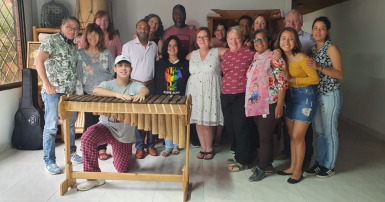 For the first time in its 214-year history, Colombia has elected a progressive, left wing government. The 2022 election of Gustavo Petro as President and Francia Marquez as Vice-President is historic, and a hopeful moment for workers, activists, the marginalized and the poor. Marquez is the first African-Colombian woman to hold the vice-presidency, and their coalition, the Historic Pact, is a united front of progressive parties, trade unions, youth, women, and ethnic minorities to name a few. This election was a hard-fought victory for social movements and communities who have endured decades of violence and poverty, conditions that forced them to rise up and protest in the streets despite the danger.
It is an exciting and a vulnerable time for activists who are all too aware that this period of transition, in the lead-up to the inauguration on August 7th and beyond, will be fraught with political challenges and threats and acts of violence. According to the International Trade Union Confederation 2022 Global Rights Index, Colombia is once again one of the top 10 most dangerous countries in the world to be a trade union leader, and activists know these conditions will not change overnight or by simply electing a new government.
In July, CUPE joined the Frontlines delegation to Colombia with leaders from CLC, PSAC, NUPGE and CUPW to hear firsthand accounts of the significance of the election and to learn more about the backdrop of violence onto which it occurred. For almost two decades the Frontlines Initiative has been organizing worker-to-worker solidarity exchanges with Colombian unions, social movements and human rights organizers to support the peace process, expose the negative impacts of Canadian investors and harmful economic policies, and build mutual solidarity between public sector workers in Canada and Colombia. Despite this moment of hope, the calls for justice from families who lost loved ones to state violence during the 2021 national strike continues to be a priority for many people we met, and is a devastating reminder of the enormous task ahead for the new government.
The day after we arrived in Colombia, the Truth Commission presented its final report, a significant outcome of the 2016 peace agreement's chapter on transitional justice. The report's ten chapters addressed themes such as human rights violations, their impact on mental and physical health, the role of armed groups, sexual violence, and the forced exile of thousands of people. The Frontlines delegation met with human rights defenders and labour organizations struggling for human, trade union and worker rights, and with public sector unions fighting privatization of public services. We met with leaders and communities in Bogota, Cali, Buenaventura, Medellin, Villagarzón and in the rural coastal communities along the Pacific coast and in the mountains where Colombia's Afro-Colombian and Indigenous communities are severely impacted by displacement and violence because of transnational corporate and paramilitary activity.
Everyone we spoke with is cautiously optimistic that the new government can now begin to repair the damage caused by the right-wing governments of the past (knowing full well that many remain in elected positions), and provide the space for social movements to continue to organize toward justice.
There is a clear role for the international community, including the Government of Canada, to do all in its power to support the organizing efforts of human rights defenders and movements and to help guarantee a stable and secure transition period and ensure a steady transfer of power to the new government in Colombia.