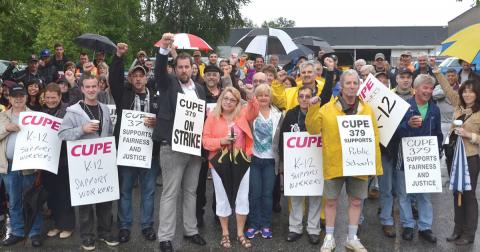 In 2013, CUPE locals settled 365 contracts at the bargaining table. Another 1,532 collective agreements are still being negotiated, and a further 589 will open in 2014. Some contracts broke new ground, while others held the line during tough negotiations.
CUPE's bargaining highlights include:
After more than a year without a contract and four years without a raise, CUPE BC's 27,000 education workers reached a two-year provincial framework agreement in September. The no-concessions deal includes a 3.5 per cent wage increase and up-front prescription drug coverage. A strike-averting campaign helped increase education workers' profile, generating support for their role in keeping schools clean, safe, and inclusive.
CUPE's Ontario Council of Hospital Unions won breakthrough attendance management language in its new provincial contract. Stopping employer harassment of front line staff for legitimate illnesses was a key priority for nearly 25,000 hospital workers. Under the new contract, sick days used for a chronic medical condition or catastrophic event will not come from a worker's allotted sick leave. OCHU/CUPE is the first union in Canada to bargain the provision. The four-year deal broke a pattern of public sector wage freezes, and locks in job security at a time when Ontario's hospital sector will see rapid restructuring.
Flight attendants at Sunwing, members of CUPE 4055, overwhelmingly accepted a first collective agreement that includes a pension plan, sick leave improvements, and significant wage increases. The gains bring the workers in line with every major airline in the country.
The members of CUPE 1500, CUPE 2000, CUPE 4250, CUPE 4785 and CUPE 9867 united in a common front to successfully negotiate a new collective agreement with Hydro-Québec. The members of the locals voted to accept the deal in November.
School board employees with the Annapolis Valley Regional School, members of CUPE 3876, signed a three-year deal with a 7.5 per cent wage increase and other improvements. The deal was part of the province's coordinated bargaining process for seven school board locals.
Saskatoon Public Library workers secured a contract that includes a $2 per hour pay raise for library pages who had been earning barely above minimum wage. The 250 members of CUPE 2669 ran a three-year campaign with creative events including read-ins at city council meetings. The workers had strong public support throughout their campaign.
Quebec City's blue-collar workers are in bargaining with a hostile mayor calling for major wage and pension concessions. The 1,100 members of CUPE 1638 were the target of the mayor's vicious attacks as part of his re-election bid. The mayor also tried to do an end-run around negotiations, asking the province to legislate changes to the pension plan. A massive rally during CUPE's national convention backed the local's call for the city to fairly bargain a new collective agreement. Their contract expired three years ago.