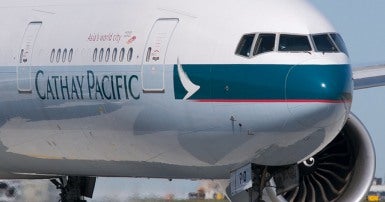 CUPE is deeply dismayed by Cathay Pacific's announcement that the company intends to close its Toronto base, which will cause more than 120 flight attendants to lose their jobs. Apart from our immediate concern for the welfare of these employees, who are hard-working members of CUPE 4088, we are also disappointed that the Employer would open its latest round of bargaining with this Local by announcing the closure of one of its bases.
Last month, Cathay Pacific announced it intends to contract out 100 per cent of its customer service agents at the Vancouver airport as of July 3, affecting another 46 of our members. This latest news—and the lack of consultation surrounding the decision—reflects a disturbing pattern of indifference by the Company toward its loyal employees, and a lack of respect for the unionized workplace.
Our members know the airline's operation just as well as the Company does. CUPE flight attendants have made valuable contributions to other airline company operations, including cost-cutting ways to reduce waste, such as converting seat pockets into mesh and proposing that newspapers and in-flight menus be converted to electronic versions. CUPE 4088 members love their jobs and are proud of the work they do for Cathay Pacific.
There are many ways the Company could have worked with CUPE to address its financial concerns without having to close the Toronto base—or, after finding no other option, a more collaborative effort to announce the decision. But instead of exploring solutions with the union to prevent needless job losses, the Company acted unilaterally on a third-party report by an outside firm.
CUPE 4088 flight attendants, and the flying public they serve, deserve better.
Photo credit: BriYYZ This work is licensed under a Creative Commons Attribution 2.0 Generic License.