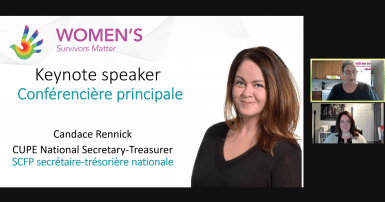 CUPE National Secretary-Treasurer Candace Rennick addressed the CUPE Ontario Women's Conference on International Human Rights Day. In her keynote speech, she said that the federal and provincial governments should follow through on their commitments to The Universal Declaration of Human Rights and the Canadian Charter of Rights and Freedoms, especially when it comes to the rights of women. "Not all women have benefited equally or equitably from these gains, and we are constantly trying to hold on to what we've won," she said. "Ontario, like the rest of Canada, has a segregated labour force. That means that what you end up doing for a living, how much you earn, your job security, whether you have a pension or benefits depends on your gender, but also on your race, whether or not you are Indigenous, whether you have a disability, whether you are a newcomer, whether or not you are Trans."
She went on to explain that the pandemic had exposed and confirmed so much of what is wrong in our country. "So much sickness and death could have been prevented if we didn't have so much inequity, if women had better jobs, better protections, and if our health system and social supports were what they should be." "Let's organize women—all women in CUPE—for Truth and Reconciliation and an end to colonial laws, policies, and practice. Think how much more powerful our union's anti-racism work would be if we mobilized ALL women in our union to engage and take action", she added.
CUPE's newly elected National Secretary-Treasurer encouraged participants to think big and be bold "because that is the only way to move forward, it is the only way to win." CUPE Ontario Secretary-Treasurer Yolanda McClean and President Fred Hahn were among the other union leaders and members who attended the Women's Conference.