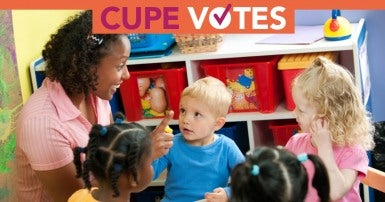 Families in Canada need a comprehensive, publicly funded system of high-quality early childhood education and child care that is inclusive of all children, meets the development needs of children, the needs of guardians and offers child care workers fair pay and decent working conditions.
Unfortunately, Monday's child care announcement by the Liberal Party falls short of the very real needs of Canadian families. Not only that, but it also falls short of the Liberal Party's own 2015 election promise of "affordable, high-quality, fully inclusive child care…available to all families who need it".
As affordable child care spaces become more and more scarce, Canadian families deserve better than grand promises that fail to materialize after a four-year term, only to be scaled back at the next election. While the Trudeau Liberals were debating provincial and federal responsibility for the child care promises they made, child care fees outpaced inflation in most Canadian cities, soaring to a median rate of $1,400 per month in Vancouver and $1,685 per month in Toronto.
While the Liberal Party continues to lower expectations after abandoning their promises the first time around, CUPE is pleased to see the NDP's plan to invest $1 billion in child care beginning in 2020, and to grow that investment annually, which is what CUPE and child care advocates estimate will be needed for Canada to reach the goal of affordable, high-quality, inclusive child care.
Read CUPE's election issue note on child care here.