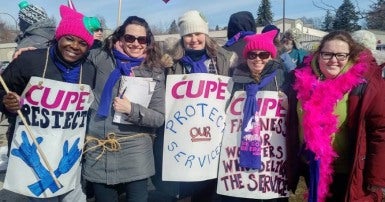 On the day marking two weeks on the picket line, 227 workers at the Canadian Hearing Society (CHS) are asking, "Why won't our employer come to the table and bargain a settlement?" The two sides have not met since the strike commenced on March 6th.
On Thursday, March 16th, Canadian Union of Public Employees (CUPE) Local 2073 President Stacey Connor and CUPE National Representative Barbara Wilker-Frey sent the employer a letter (text included below), offering seven consecutive bargaining dates. The union has received no take-up on the dates offered.
"Everyone knows this strike will end through a negotiated settlement," said Connor. "It will not get resolved by the parties sniping at each other through the press. It will absolutely not get resolved if the employer is pouring energy into hiring sub-standard replacement workers. It will be resolved through the hard work of talking to each other and bargaining. So why won't they come back to the table?" asked Connor. "What are they afraid of?"
Wilker-Frey expressed concern over reports that the CHS is boasting of expanding services during the strike through the use of replacement workers. "Use of replacement workers prolongs strikes, makes it harder to get a deal. It also damages the relationship between the parties even more, and makes it so much more difficult to rebuild a climate of trust," she said. "We urge the CHS to do the right thing and come back to the table. They owe it to their employees, and they owe it to the community of Deaf, Deafened, Oral Deaf and Hard of Hearing clients who need the vital services normally provided by the workers on strike."
The striking workers have been without a contract since 2013. "Four years without a wage increase, and an employer that tabled a total gutting of our sick leave plan on the eve of our strike deadline," said Connor. "I'm not suggesting it's going to be easy to resolve this, but it will be impossible if one party refuses to even put in the work."
CUPE Local 2073 represents 227 counsellors, literacy instructors, audiologists, speech language pathologists, interpreters/interpreter trainers, clerical support, program coordinators, program assistants, information technology specialists, and other staff at 24 Canadian Hearing Society offices across Ontario.
The text of CUPE's letter to the CHS, dated Thursday, March 16th, is reproduced here:
Dear Ms. Dumanian, Mr. Andrade and Ms. Keenan:
As we near the end of our second week on strike, we want to reiterate that we remain available to negotiate with you. We want to stress that this strike will be ended by a negotiated settlement – we trust all parties realize that. We hope you are as interested as we are in achieving that soon.
We are available through the weekend of the 18th and the 19th of March.
We are also available:
Monday, March 20th
Tuesday, March 21st
Wednesday, March 22nd
Thursday, March 23rd
Friday, March 24th
As you know, we require a bit of advance notice in order to get ASL interpreters to the table with us. In the interest of finding the most expeditious settlement possible, and returning vital services to normal working order, we hope you will find you way back to the table with us on one of these dates.
We look forward to your prompt reply.
Yours truly,
Barbara Wilker-Frey                                                          Stacey Connor
CUPE National Representative                                       President, CUPE Local 2073