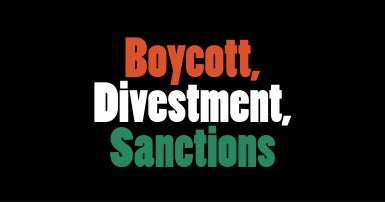 On December 1, 2016, Ontario Conservative Member of Provincial Parliament Gila Martow introduced Motion 36 in the Ontario Legislature, which declared the boycott, divestment and sanctions campaign (BDS) a hate movement.
The boycott, divestment, and sanctions  is a global campaign  that looks to exert social, economic, and political pressures on Israel to end their occupation and colonization of Palestinian land and the violent exploitation of Palestinian people and workers.
Motion 36 in Ontario, which passed with a vote of 49 to 5, follows on the heels of a Memorandum of Understanding (MoU) the federal government signed with Israel in January 2016. The MoU claimed that "the selective targeting of Israel is the new face of anti-Semitism" and made the commitment that Canada will oppose those who support the boycott, divestment and sanctions movement.
CUPE National signed a statement, issued by the Canadian Labour Congress, that called on the federal government to "stop trying to shut down legitimate and nonviolent criticism of human rights abuses by Israel. Tactics such as boycotts, divestment and sanctions, for example, can be effective for raising awareness about and discouraging human rights abuses by governments and must not be characterized as criminal or as inciting hatred towards a people."