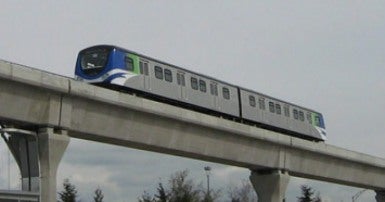 CUPE-Quebec will be keeping a close eye on the construction and ensuing operation of the light rail transit (LRT) project announced this past Friday by the Caisse de dépôt et placement du Québec (CDPQ). CUPE-Quebec and its Ground Transportation Sector Provincial Council (CPSTT) represent 7,100 ground transportation workers in Quebec. Together they form the largest union organization in the urban transportation sector in Quebec.
According to the CDPQ, the new initiative will be most ambitious public transit project in Montréal in the last 50 years. Capital costs are expected to total some $5.5 billion, $3 billion of which will come from the CDPQ and the remainder from the federal and provincial governments.
CUPE is watching the project closely after speaking out in a parliamentary committee against Bill 38 enabling the creation of the subsidiary CDPQ Infra, which it fears will open the door to a new type of public-private partnership (PPP). CUPE has consistently fought against this operational approach, which is always a poor business decision for taxpayers overall.
CUPE also decries the fact that the Ministère des Transports will not be overseeing this huge construction project. This situation could mean losing access to the ministry's extensive internal expertise, creating additional risks for taxpayers, as documented by the Charbonneau Commission.
"Instead of embarking on new experiments that could prove very costly for taxpayers, the CDPQ should have focused on using existing internal expertise, which is best positioned to ensure transparency, efficiency and sound governance so that the people of Quebec can actually benefit from any economic spinoffs," explained Daniel Leroux, president of CUPE's Ground Transportation Sector Provincial Council (CPSTT).
The union is also seeking implementation of cost control mechanisms as well as accountability measures. "In the past we have seen major construction projects turn into open bars where contractors just step up to take whatever they can get," added Leroux.
CUPE will be making every effort to ensure that this huge project follows procedures including guidelines for using accredited workers. The union also wants to see leveraging of existing internal expertise in operating this new electrical transportation network.
"We hope that this project is not going to mean the addition of another actor for operations," added Jean-Guy Simard, CUPE's ground transportation sector coordinator. "STM, RTL and STL employees need to be involved so they can contribute their expertise."
According to the CDPQ, work will start in the spring of 2017. The project should be completed by 2021 and could create up to 7,500 direct and indirect jobs during the construction phase.
CUPE is anxiously awaiting the consultation process for this project involving a major outlay of public funds so that it can express its concerns before billions of dollars are spent in a context where issues relating to transparency, cost-cutting and public control could arise.