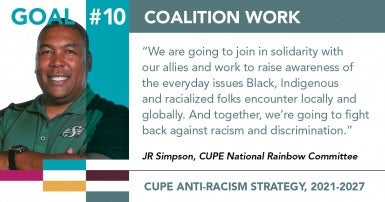 "We are going to join in solidarity with our allies and work to raise awareness of the everyday issues Black, Indigenous and racialized folks encounter locally and globally. And together, we're going to fight back against racism and discrimination." - JR Simpson, CUPE National Rainbow Committee
The fight for racial justice includes grassroots movement building, globally and locally. CUPE proudly organizes and fights with trade unions and social movements for a world free from oppression and discrimination in all its forms.
CUPE's new Anti-Racism Strategy calls on our union to advance and strengthen our global work and to exert our collective right to live in a just world. Systemic racism in all its forms is inseparable from our struggle at the bargaining table, against privatization, against austerity and toward global justice.  The struggle against white supremacy, police brutality and the exploitation of workers knows no borders.
The Strategy calls on CUPE to strengthen our solidarity with workers in Canada and around the world, and to continue to draw inspiration and lessons from the experiences of others in our local coalitions and our global partnerships.
Between now and our National Convention in November, think about how you and your Local can form stronger alliances to fight racism in your community - and around the world.
This is the tenth and final feature in this series profiling the goals of CUPE's Anti-Racism Strategy. Read the full series here.