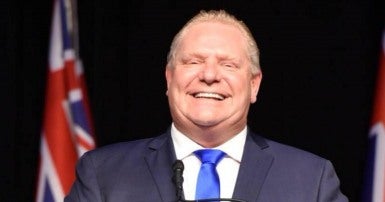 Thursday's budget announcement is little more than a cynical election ploy that Ontarians see through, says CUPE Ontario.
"Ontario spends less on public services per person than any other province and it shows in the burnout of front-line workers, the capped wages, the schools and hospitals and child-care facilities desperate for resources," said Fred Hahn, President of CUPE Ontario. "After more than two years of an unprecedented crisis that only exposed and worsened an already-gutted system, we're long overdue for real and significant investments. Instead, the Ford Conservatives are presenting a budget that won't even pass by election day, meaning it's doing little more than serving as an election ploy. This is what we've been getting for far too long: lip service and self-serving posturing instead of bolstered public services."
Considering the timing of the budget being delivered, landing days before the election period, it likely won't pass as legislation, leading many to say it's being turned into the Conservatives' campaign platform – not a traditional budget.
CUPE Ontario, representing 280,000 public sector workers in the province, is concerned that this will be another missed opportunity to invest in public services, make the wealthy pay their fair share, strengthen workers' rights, raise wages and tackle the cost of living, and fight inequality and the climate crisis.
"Building the Ontario we deserve takes real investments, but this province has so far failed to rise to the challenge," said Angella MacEwen, CUPE economist and co-author of Share the Wealth! How we can tax Canada's super-rich and create a better country for everyone. "Ontario spends an astonishing $2,000 less, per person, on public services than the rest of the country every year, with some estimates warning that the province is on pace to reduce spending even more. And whatever apparent increases the Ford Conservatives have loudly touted are largely eaten up by inflation, population growth, and demographic changes."
"We should have treated the last two years like it was a reckoning," said Hahn. "It told us, more clearly than anything else we've gone through, that public services save lives, that there are real and even deadly consequences for starving our public services of the resources they need. But the Ford Conservatives refused to learn the lessons of this crisis. On June 2nd, we need to elect a government that has."